Lake Akan Tsuruga WINGS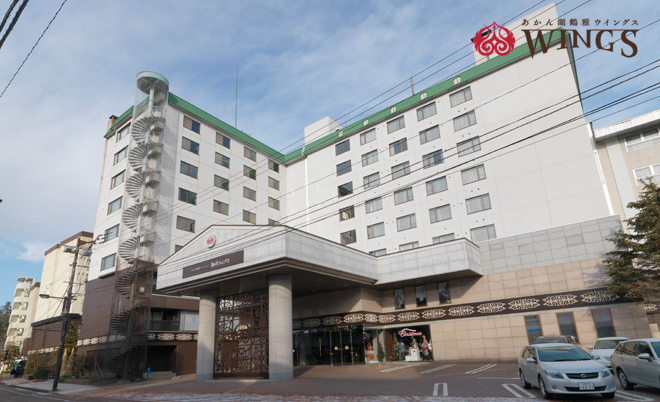 Lake Akan Tsuruga WINGS
Lake Akan Tsuruga WINGS is "New Style" – stylish and contemporary - hot spring Ryokan (Japanese inn). All of guest meet many art works, delicious and beautiful buffet dishes, of course nice hot spring (onsen) at Lake Akan Tsuruga WINGS.
Guests of Lake Akan Tsuruga WINGS are first greeted in lobby by the sight of bears wood carvings made by local wood carvers in Lake Akan and you are fascinated by beautiful "AINU" art works. "AINU" are Hokkaido's indigenous people who have unique culture and customs that we are respected them. You can see AINU traditional dance show and their hand craft at " AINU KOTAN" where is only a few minutes by walk.
Dinner and Breakfast you will be addicted to delicious and healthy menu at buffet restaurant "HAPO" which means "Mother" in AINU. Please enjoy delicious and safe dishes as a meal the mother to make her children.
Do you like hot spring (onsen) ? If so you must stay at Lake Akan Tsuruga WINGS because you can enjoy more than 33 hot spring baths.
In Lake Akan Tsuruga WINGS there are only 6 hot spring communal bath tabs and more guests are available sister hotel "Tsuruga Akan Yuku no Sato" hot spring facility which are more than 25 hot spring bath tabs.
When you stay at Leke Akan Tsuruga WINGS please try "Hot Stone Sauna" which is popular sauna in Japan. It will be unique experience for you.
Lake Akan Tsuruga WINGS is committed to making your guest experience one you will never forget. Visit us to experience the truest sense of warm, traditional hospitality "OMOTENASHI" that has been passed down for generations in this the great northern island of Japan.
GO WEB SITE
→